March is upon us! Where has the past two months gone? For some us March brings beautiful spring weather, which of course gets you in the mood for cleaning. The designers over at Scrap Matters have caught the cleaning bug, and are cleaning out their stores.
And of course Wendy is joining in on the fun! She has 35 or so items on sale. Not everything is shown in the preview.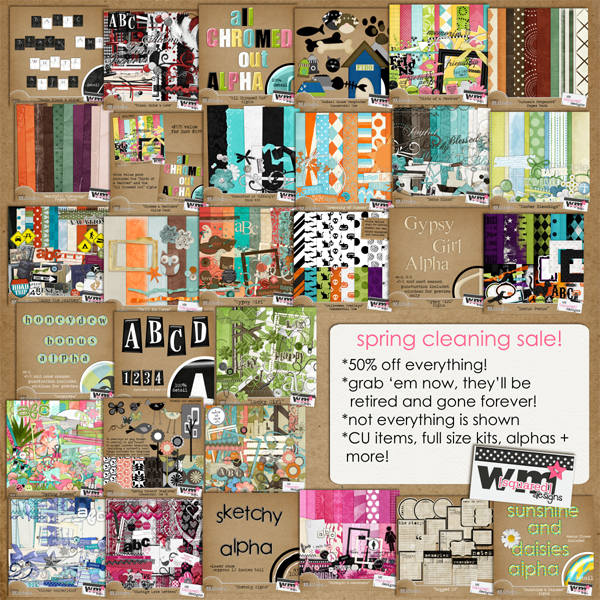 Check out this complete list of what is one sale.
Tagged
Tagged II
Autumns Potporri Paper Pack
Strength & Awareness
Strength & Awareness - Alpha
Winter Wonderland
Beautiful Blessings Paper Pack
Honeydew Bonus Alpha
Lucky Girl
Easter Blessings
Sketchy Alpha
Sunshine Polka Dot - Alpha
Dreaming of Summer
Summer Sunshine Value Pack
Animal House Templates *CU OK*
Basic Black & White Alpha
Sunshine & Dasies - Alpha
Halloween Overlays *CU OK*
Gypsy Girl
Gypsy Girl - Alpha
Fall In Love
Boho Bliss
Black, White & Love
Vintage Love Letters
Its All Black & White - Alpha
Enjoy The Journey
Breakfast @ Tiffany's
Hocus Pocus
All Chromed Out
Birds of a Feather
Chrome & Feathers
Retro Spring
Spring Blooms
Spring Blooms - Alpha
Spring Forward Templates *CU OK*
So what are you waiting for?! Go check out these awesome deals at
Wendy's shop!