I've been a fan of Project 365 for three years now. Lately, I've taken to calling it Project 182.5 instead. I figure if I even take a photo every other day, I'm still ahead of the game. The photos I have taken over the past three years (and scrapped) are my absolute favorite keepsakes. They are like a visual diary of the highs and lows and the everyday nonsense that life in our house has become. More than that almost, they have shown me what is important and precious in my life and help me to remember those moments...because they are pretty fleeting sometimes.
Here are my tips to keeping you in the Project 365/182.5 game:
-Make sure you have your camera everywhere. It doesn't have to be your "good" camera, it can be your 1megapixel camera that comes on your phone. Just capturing the image is what you need to be able to do. I so love my DSLR, but I know I can't take it everywhere so I've come to terms with my iPhone's camera and all its good points and bad points....I am ultimately happy to just have the captured the moment.
-Always remember to keep our process "fluid". Some days you can do it, some days you cannot. I have a daily planner that I keep right near my computer. Even if I haven't taken a photo for that day, I will jot down a couple sentences in my daily planner and maybe even include a remark to take a photo of xyz and then I call it a day. There are those out there that are so set on doing it EVERYDAY and I truly applaud them, but for my life an "absolute rule" just doesn't work. I figure any photo is better than none....
-If you are just stuck one day and can't think of anything or it is 10pm at night and you are looking at a blank photoshop canvas or an empty journaling page, try to come up with something using a Theme. I've loved some of my photos doing that. I've gone with the shoes we are wearing, favorite foods in the pantry, books we are all reading at that moment or a memory of each grandparent. There are some more general "big picture" themes out there. Water. Anger. Temptation. Shadows. I like this
weblog with 52 themes identifed
(he even includes a download to an excel spreadsheet to get yourself organized).
Here are some places you might also want to check out on the web. There is some great inspiration and communities and cool themes and so much more.
-One of my favorite spots is
365project
. The photography here is breathtaking and so darned inspiring and it comes from all around the world. So cool!!
-Most importantly, come check out the P365 challenges at Scrapmatters. We have them once a month and would love to have you participate. You don't have to commit to taking a photo a day or even one a week. Just try it one time. Honestly, I think you will be hooked on the concept. So for some great inspiration, check out the
P365 gallery
at Scrapmatters and check out the
P365 Challenge
section in the forum.
To close this post, I thought I would post some of my p182.5 photos. Ones I have taken over the past year. Some of them I have scrapped and some of them will just be printed out as a 4x6 photo to put in my album. These aren't fancy or "arty" or perfectly composed...they are my life and I like them like that.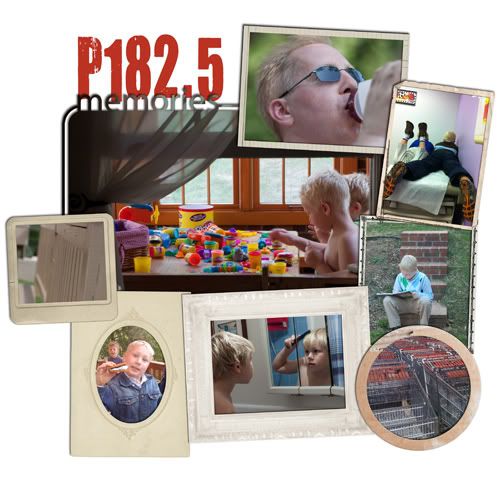 All frames by WM[squared]
-